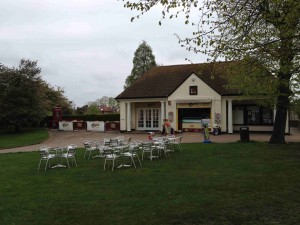 The Café is located in the Upper Park near the Bandstand and new playpark and offers both a cafe and take-away service.
Telephone
01206 364007
Opening Hours
Opening times: 9:30am to 5pm every day, 1 April to 30 November.
Take-away
Cafe in the Park has a take-away counter where you can queue without having to go onto the cafe.  This was originally an ice cream counter seliing lollies and ice creams (including soft whippy cones).
This has expanded and you now can buy hot tea and coffee, soft drinks, crisps, chocolate, chips and hot dogs / sausages in rolls.
This is great for mum and dad wanting a hot drink while watching the kids play on the new play park.
Tables and chairs are provided on the grass opposite for take -away customers (very popular when bands are performing on the bandstand).
Menu
The Café offers a varied menu of sandwiches and baguettes and for those wishing to take their food away and enjoy lunch in those areas of the park where picnicking is permitted, they offer picnic boxes.
Hot food is available at the Café with a menu including; – Fish & Chips, Scampi & Chips, Burgers, Chilli Con Carne and more.
Their friendly staff are happy to help and whatever your taste in food, if they have it they will be happy to serve you a combination to your specifications and liking.
The cafe has tables both inside and outside.  The outside tables are next to the cafe and only for use by people using the cafe (not the take-away counter.
Concessions
The Café in the Park are responsible for The Bouncy Castle and Slide and Boating Lake.
Bouncy Castle & Slide
Opening Hours
April 6th to September 30th
Weekends, Bank Holidays & School Holidays ONLY
11am to 5pm
Cost
£1 for 3 slides or £1.50 for 5 minutes on the bouncy castle.
Boating Lake – Lower Colchester Castle Park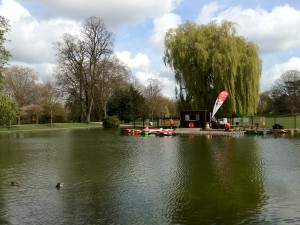 Opening Hours
April 1st to October 31st
Weekends & Bank Holidays ONLY
11am to 4.30pm (last boat)
Note: – Opening hours is weather permitting and the Boating Lake may be closed when events are being held in the Lower Park.
Tickets can be purchased from the kiosk next to the boating lake.  The kiosk also sells ice cream, lollies, hot and cold drinks.