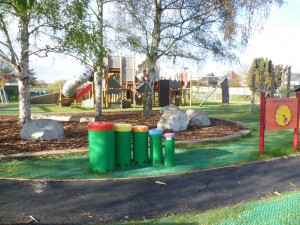 Open during park hours and importantly FREE!
In April 2011, the new play park was opened by the mayoress.  This was a much needed as the old park had not been updated for many years.  The total investement was stated as being in the region of £400,000.
The play park for ages up to around 12 and has been designed so there is something for everyone.  It has been very well designed with soft floor covering most of the play area to help cushion and unexpected fall.
Seats have been placed throughout the play park together with some picnic benches to one side.  One really good design point is the rocks placed in the centre of the playpark under the shade of trees, a very good place to sit and watch your young ones enjoy the playpark or to have a picnic with some shade.
The play park is situated close to the Cafe in the Park so parents can grab a take-away tea.  Toilets are also located next to the cafe which is perfect if 'little Jimmy' has an urgent call of nature.
The top part of the playpark has mini climbing frames, swings, sandpit and trampoline for smaller children.
There is also a rocking jeep, merry go round (sunk to ground level) and big round swing that are good for all ageas.
The bottom end of the play park is a huge castle design climbing frame with many challenging obstacles to tackle.  There is a climbing wall and net (shaped like a spiders web), a long rope swing and the very popular zip wires.